ALR Post 259 Blogs
The ALR Post 259 club is based out of Oneonta, NY.
3 Area Students Receive Legacy Scholarship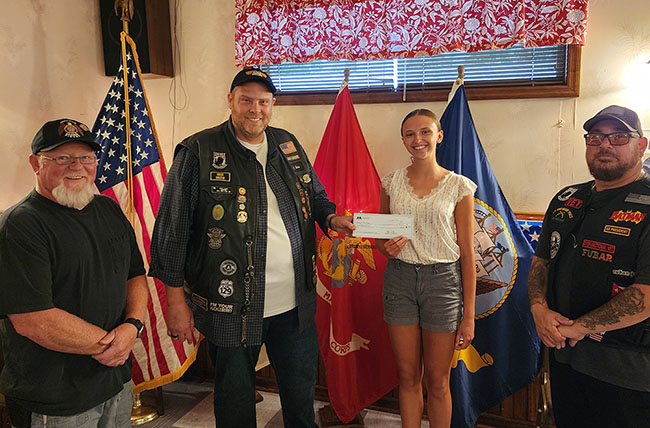 Motorcyclists from the American Legion Riders of Post 259 recently awarded three scholarships to students from Oneonta, Worcester, and Morris as part of their Legacy Scholarship program.
Established by the dedicated members of the Oneonta American Legion Riders Post 259 in 2021, this program is a local spin-off of the National American Legion Legacy Scholarship Fund. The national fund was implemented to lend a helping hand to the young generation whose parents served in the armed forces post-September 11, 2001, and have sadly either passed away or were severely injured.
The ALR 259 Veterans Scholarship program is open to local graduating high school students from Otsego, Delaware, and Chenango counties who embody high moral standards and are the legal children of a Veteran.
For more information about the scholarship, do visit: https://www.alrpost259.org/veterans-scholarship
The money for the ALR 259 Veterans Scholarship program as well as the donation that is sent to the Nation American Legion Legacy Scholarship, is raised through the annual Legacy Motorcycle Run held by the Post 259 Riders, along with other fundraising efforts.
This year's 21st Annual Legacy Run is to be held on September 9th. Join in the cause and mark your calendar. https://www.alrpost259.org/legacy
Local residents are encouraged to come and support the cause, either through participating in the ride itself, donating or contributing through the various fundraising activities to be held.
Chris Chase, Director of the Post 259 chapter, spoke proudly of what the Riders have been able to accomplish over the past few years from these efforts.
"For the 2021-2022 school year, we were able to give out 2 scholarships to deserving students to help with the costs of going to school. We're really happy this year we were able to provide assistance to three students, and we look forward to next year's applications. A heartfelt thank you goes out to our members, riders, local businesses, and the community for their tremendous support that enables us to provide assistance to those deserving or in need."